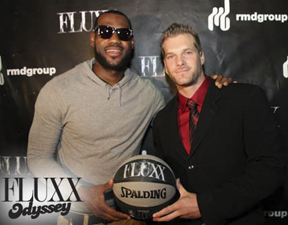 Referrals

Photo to the right is of LeBron James and the Assistant General Manager of FLUXX Nightclub James Thorp (he goes by "Big Game"). "Thank you again very much for all your help getting the ball done in time for the event."
---
Dear Chris,
Please accept this letter as official approval from Wyland that you have his permission to touch up his mural at the Plunge in San Diego. He respects your work, and knows that you have done a good job of touching up the mural in the past. If the new owners have any questions, please let them know they are welcome to call me at the Wyland Foundation. Thank you for your interest in keeping this important part of Wyland's work in beautiful condition.
Best regards,
Marty Earlabaugh, Director of Advancement
---
Cindy P. wrote:
When planning my children's bnai mitzvah I was looking for the most creative, trusted individuals to help me construct the ideal atmosphere for my party. Chris Cott surpassed my wildest expectations. He collaborated with my family to produce an artistic, fun event. From air brush tattoos to sign in guest boards, Chris extended himself beyond the standard to ensure our party was a success. Chris is a true professional. I recommend him highly to anyone that wants an excellent celebration.
Sincerely, Cindy P.
---
Dear Chris,
Thank you very much for making the air brushed artwork to go into the centerpieces for my son's Bar Mitzvah. We received many positive comments, along with requests from guests, to take the art work out of the centerpieces so that the guests could take the art design home! Thank you again for accommodating us with the various different designs, I know it wasn't cookie cutter, thus more time and effort on your part. We appreciate it. The kids loved the airbrushed T-shirts with their own names; my husband liked his, too! This is a great memory and keepsake of my son's Bar Mitzvah that the kids will actually use for a long time. Please feel free to use us as a reference anytime, and I will be sure to recommend you to others for Bar Mitzvahs or other events.
Sincerely, Marla R.
---
Andra D. wrote:
Working with Chris and his staff was a pleasure! The partygoers LOVED their tattoos, a fantastic experience was had by all!
Sincerely Andra D.